SpinnerBaker Software Games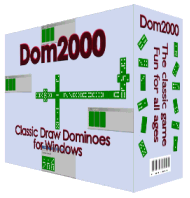 What SpinnerBaker Software program has the most registered users? Surprise! It's not the popular Dropit or Icon Clock programs, it's the fun draw Domino game, Dom2000. Whether you're one of those who grew up playing Dominoes, or just want to teach your children this fun and timeless game, you need to try Dom2000. Version 3.0 has larger dominoes, and lots of other features, including one to three computer opponants, skill level settings for the computer players, a different voice for each computer player, background color and domino set options, and sound and speed settings. Find out why this is the top rated shareware Domino game around!






Wahoo is the original version of the popular board game which swept the country over 40 years ago, eventually becoming the trademarked games, Parcheesi, Aggravation, and Sorry. Find out why the original game is the best!











Widow Pitch is a fun card game, played against a computer opponant. It's a little like Spades (Pitch variations were the forerunner of Spades), but unique in its own way. Bid, name trump, draw, then beat the computer to 21 points!






[ Main Page ] [ MeshX ] [ Icon Clock ] [ Dropit Pro ] [ Dropit ] [ FilePeek ] [ Dom2000 ] [ Wahoo ] [ Widow Pitch ]

Copyright © 2007 by SpinnerBaker Software
Last Updated 08/21/2007